Neighbourhood
The Moulin de Gratte Sac is located in the Mayenne département, which is also known as the land of small pleasures. There travellers and holiday-makers will find plenty to suit their tastes and needs, from culture, history and gastronomy to fishing, walking, cycling, horse riding or simply enjoying the peace and quiet of these lovely surroundings. Many picturesque sites, natural or man-made, await your visit to reveal their unique beauty all year round, while charming market towns villages are sure to satisfy the curiosity of all age groups.
Here are also some ideas of activities concerning history, gastronomy and family outings:
Sainte-Suzanne : the romantic charm of the Middle Ages (5 km)
You are bound to fall under the spell of Sainte-Suzanne! A fortified town which took pride in resisting successfully William the Conqueror's attacks, Sainte-Suzanne provides for romantic strolls with its narrow, serpentine streets and its coats of arms adorned houses. Close to the castle, taverns and creperies will satisfy both big appetites and gourmets, while the green setting of the 14 and 15 century ramparts is the perfect spot to while away the hours.
Sainte-Suzanne is one of the 157 'France beautiful villages' !
Évron: a multifaceted city for all ages (8 km)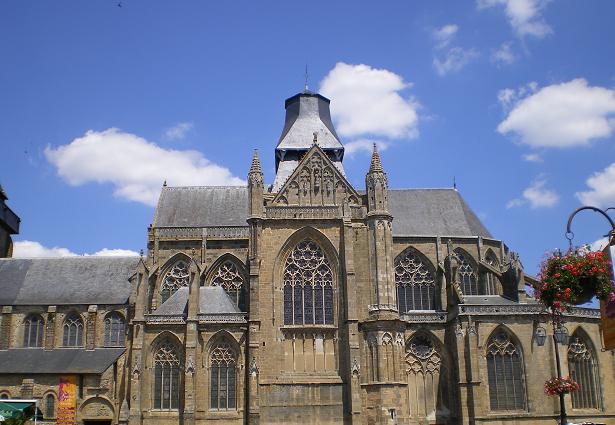 The basilica Notre Dame de l'Epine (10-18th century) is the jewel of Évron, a city renown for its architectural highlights of roman and gothic styles. Though weather beaten, it has retained its original square tower, a crypt and a large nave where numerous pilgrims congregate to revere relics of the Virgin, whose history is retraced on the columns of the basilica's wall.
If you're looking for information or a good read, or if you're interested in multimedia, go to the Michel Nicolas Media Library, located on Place de l'Ancienne Mairie; it is the place for those wanting to find out about up-to-date audiovisual and technical novelties as well as those with a keen interest for culture. Fancy a swim? The aquatic garden of Evron welcomes all families for a great moment of relaxation and fun. Its seashell-shaped pools are filled with plants and music. Here and there, trapezes, ropes, toboggans and climbing walls will provide those in need of physical exertion with the opportunity to show off their skills; a café serving light snacks is also available.
The Saulges caves: take a trip into pre-history! (17 km)
Travel back in time: jump into the time machine and get ready for an incredible journey into pre-historic France! The site of Saulges, a small market town of great charm, is indeed unique of its kind, with two paleolithic caves, a subterranean lake and two churches, one of which stands on a Merovingian necropolis and is renown for its 15th century frescoes. Those after big thrills will visit the gorges of the Erve river and their steep rock faces, the popular haunt of rock climbers.
Mézangers: the ideal destination for sports lovers and families! (14 km)
With over 125 acres of woodland and water, the sports and recreation park of Gué de Selle located in Mézangers offers many possibilities for families and sports lovers, from tennis, minigolf, walking and horse riding to fishing, sailing and swimming. Facilities include a watersports base, where you can rent pedal boats or swim under the surveillance of lifeguards, children's playgrounds, a fitness trail as well as picnic areas. The park, which is listed, is extremely well kept and will provide a safe environment for you and your children. Amateurs of French cuisine will also be able to indulge their taste for gastronomy on the spot.
Sainte-Gemmes-le-Robert: tourism goes green (10 km)
If you're into ecotourism, organic agriculture and fair trade, a visit to the Ermitage estate in Sainte-Gemmes-le-Robert is just your thing. The estate has a medicinal garden; guided tours are led by an expert, who will tell you all about herbal medicine and the history of the herbs and plants grown in the garden.
Good food and fine products: the tradition of 'Made in Mayenne'!
Craftsmen and producers of the Coëvrons area take great pride in making and selling authentic products. The Mayenne has a long tradition of growing apples and local farmers are especially gifted in distilling their crops. Pommeau, made with apples, and other types of brandy are kept in oak casks, where they slowly mature and develop roundness and flavour. Mayenne farm cider is both fruity and vigorous and is perfect for accompanying chicken dishes, pancakes or toasts of 'rillettes', the local potted meat. 'Quality first' is also the slogan of beef farmers, who produce high quality free range livestock. Every year in September, the Meat Festival held in Evron hosts agricultural shows, exhibitions and tasting animations devoted to farm produce. Known throughout Europe this event puts under the spotslight free range beef from the Maine and other bovine species, which are the pride and joy of the Mayenne. Preserves, honey, syrups and aromatic herbs can also be sampled and purchased during the festival.